Individualized Care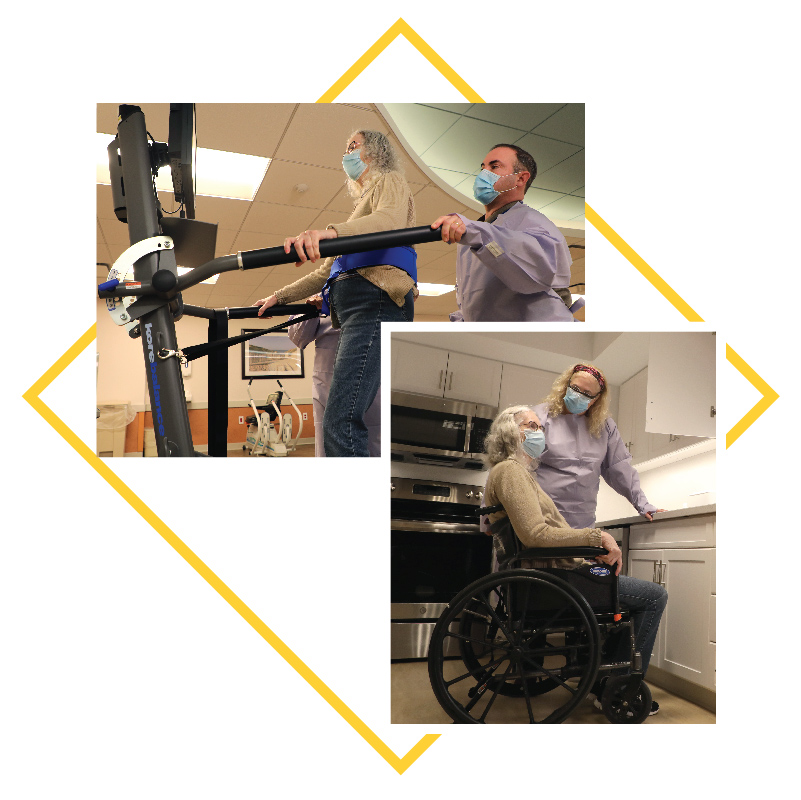 Shaker Place's rehabilitation department specializes in individualized physical, occupational, speech and respiratory therapies. Our full-time, in house staff are trained in the most innovative and advanced techniques to guide residents back to their highest level of functioning. We specialize in goal-oriented therapies, working with physicians and other care providers to create a comprehensive regimen to help residents recover from injury or illness, restore function and regain their independence.
Our rehabilitation wing is designed as a separate unit within the facility to cater to the specific needs of our short-term rehabilitation residents. Our therapy team works to get you back on track as soon as possible. Personalized treatment means that residents are paired with experienced therapists throughout their stay, resulting in optimal levels of function.
Shaker Place's therapy department features:
A friendly, attentive, caring staff with multiple years of experience and advanced training
Treatment plans for short-term rehabilitation residents and long-term stay residents
State of the art therapy equipment geared toward your specialized needs
A separate wing for short-term rehabilitation residents with separate dining and indoor/outdoor common areas
Shaker Place offers four specialized therapy services:
Physical Therapy (PT) – Physical therapy is a program of exercises and functional skill training designed to restore strength and mobility, re-condition muscles to work and teach residents how to manage and recover from a disability. Our team employs a range of traditional and advanced methods to accelerate recovery. Some of our specialized equipment includes, KORE balance machines for testing and treatment, NuStep cross training machines that are wheelchair accessible for working the upper and lower extremities, sit-to-stand machines to foster strength and balance and power parallel bars. Modalities for treatment of soft tissue injuries such as electrical stimulation, ultrasound and laser are also available. Our skilled therapists have advanced training in such areas as geriatric exercise, balance and fall prevention, vestibular rehabilitation, lymphedema management, massage and manual therapy.
Occupational Therapy (OT) – Occupational Therapy is a treatment program designed to improve a person's ability to perform daily activities such as dressing, bathing, toileting, and eating. OT encourages rehabilitation through the performance of Activities of Daily Living (ADLs). We include the homemaking skills necessary to return to independent living such as meal prep/kitchen tasks and laundry. The goal is for our residents to become as independent as possible so they can pursue a fulfilling and productive life.
Speech Therapy – Speech Therapy addresses the needs of residents with communication issues, cognitive issues, and swallowing disorders due to neurological incidents, trauma, and cognitive impairments.

 

We employ an in-house, full time speech therapist and our staff is fully trained to

 help with the communication and difficulties in swallowing that occur. Our speech therapists work collaboratively with other care providers to employ the use of the latest therapeutic techniques to maximize recovery.

Respiratory Therapy – Respiratory Therapy is for residents with acute or chronic respiratory problems or lung disease. Treatment plans help residents better manage their conditions to improve their quality of life. This can include learning breathing techniques and energy conservation, oxygen therapy, and exercise counseling, and medication management.